Fields of Gold - Guest Storyteller, Julie Cox
The following story has been gifted to this space and published with the permission of it's writer, Julie Cox. It is a part of the Holy Ordinary Collective. You can listen to the audio version of this story on the Holy Ordinary Collective Podcast.
It's Monday morning at my house. Through my front window, I can see the bright sunshine of a field of canola, the unlikely sea of gold spreading over the formerly dead and dry winter ground. I can't look out my window without pausing to be amazed by it. It's a pure sheet of gorgeous gold, like the carpet of a temple. In my bleary Monday morning state (Why did I stay up so late last night? Why did I take a job that requires me to work on Mondays?), it's a gift, a treasure. My eyes return to it through the haze of my curtains as I make breakfast, drink my coffee, and try to type some words.
For a moment I imagine what it might be like to be out in that field, lying on my back in the sea of yellow. I look up to the sky, my vision edged by a rim of gold. It seems like it would be easy to pray or to sing praises to God with the freedom of the open field, surrounded by beauty. If I lived that kind of life, surely I wouldn't have any problems trusting God with whatever would come. But that's not the kind of life I live.
Is it?
It's easy to feel like another kind of life is better than mine. As I drive to work, I look at the cars we pass and imagine the kinds of jobs those people have. I compare possible stress levels for office jobs or farming or garbage collecting to the stress I experience in my job. I imagine the kind of person I would be if I had their jobs, if I had the freedom to control more of what I do and when I do it.
In my life, contentment and control chase each other in circles. I am always on the hunt for the next best thing. If only I had more time, or a different schedule, or more money, or a different temperament, then things would be better, easier, more fun. There's something I'm missing, always something just out of my grasp, that would let me manage my life. If I could wrap my groping fingers around that one elusive thing, then I would have it together. I'd be in control, and then, finally, I would be content.
When my heart is like this, full of everything I wish and imagine, sometimes the hardest part of the day is just getting out of bed in the mornings. Life is difficult, and my human nature doesn't make it any easier when I'm weighed down by all the things I could do or should be. When I'm trying to force my life to fit a pattern, or trying to convince myself that everyone else has a better life than I do, then I'm not naturally good or kind. I'm not especially slow to anger, and grudges simmer in my heart for way too long. When I am the one trying to control my life, no one gets good gifts. I am too often filled with anxiety and uncharitable thoughts and mean wishes toward the world at large. In these times, contentment seems like nothing but a wish on a star.
It takes God in me to change all this, God's love and goodness working a sea change in my heart that surges and swells out toward others. The tide of my heart wants to wash away, into myself, where I don't have to interact or say the wrong thing or take risks with other people. But God pulls me out of myself and toward other people, holding my hand in his while he shows me how to live the scarier life of meaning and treasure I've always truly wanted, living in the joy of trusting him.
I want contentment and joy to be easy and spontaneous, and sometimes they are. An amusement park with my kids, a family vacation, a summer afternoon in the backyard with popsicles--all of these bring immediate happiness. But sometimes, maybe more often, for me these feelings have to be sought, cultivated, and remembered.
On Sunday at church we closed the service with "Oceans." My kids had long since kicked off their shoes, and curled up with coloring sheets the church provided. Sunday mornings are so rushed for us with the scramble to find dress shoes and matching socks, the struggle to find time to dry my hair, the difficulty of getting out the door without leaving something inside. Once I made it to church only to discover I'd left my son's shoes at home.
But none of this ever seems to bother my kids. During the sermon, my son loves to climb into my lap and fall asleep to the sound of our pastor's voice. My daughter halfway listens to the sermon while she pages through the Bible, stopping to read her favorite parts. As we stood to sing the last song, they each clambered onto the pew in their sock feet so they could see the lyrics on the screen to sing along.
I'm not the best singer, and even that's overstating it. An old insult about my voice echoes in my mind every time I open my mouth, and I have no confidence in my ability to hit a note if someone put it in my hand. But I don't want to pass such silly phobias to my children, so I sing in church, quietly, so only they can hear me. That's what I was doing on Sunday--closing my eyes, swaying gently to the lyrics with my arm around my son. When I opened my eyes, I saw my daughter, her eyes closed like me, her face turned up, singing her heart out to God.
My children are gifts for which I can't take credit. They are made by God; I could never have imagined people so wonderful. I can't control their thoughts and behaviors, although I have some influence. But at the end of my days, they are two of the reasons God gives me to keep on singing, and when I look into their sweet, innocent faces, I start to see the contentment that can come when I surrender control.
I stood there and stared at my daughter, my heart swelling with love and gratitude and pride and fear, in awe of the precious gift of watching her grow. As the song ended, she opened her eyes and smiled at me, that gorgeous, gap-toothed smile below the softest brown eyes I have ever seen.
While I'm over here worrying, watching, and trying to be a good example, she's out there in the fields of gold, her eyes on God.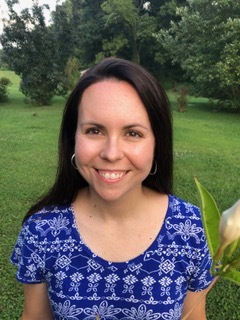 Julie Cox is a high school English teacher in Kentucky, where she lives with her husband and two children. When she is not teaching and writing, she loves reading great books, traveling anywhere, and finding new restaurants.
You can find more of Julie's amazing words and heart on facebook and on her website, using these links: